Introduction
Since 1990, Kinhaven has offered a two-week program for younger musicians. Students who are currently in fourth through eighth grades are eligible. The program for the Junior Session is open to string players, wind players, brass players, and pianists.
The Faculty
consists of a full complement of professional musicians, all skilled teachers, coaches and performers.
The Music Program
is comprehensive, including private lessons, daily chamber music coachings, string orchestra, full orchestra, chorus, and public performances.
Recreation
is ample with swimming, tennis, ping pong, soccer, folk dancing, hikes, scavenger hunts, pottery, silk-screening, brookwalks, visits to Weston, volley ball, cook-outs, softball, and lots more.
Concerts
are held on both weekends and are open to the public. All students perform each weekend. A festive buffet for everyone ends the session, sending everyone home with two weeks of very special memories.
Daily Schedule
8:00 Breakfast
9:00 Chamber Music Coaching I
10:00 Chamber Music Coaching II
11:00 Lessons and practice
12:30 Lunch
2:00 Activities
4:30 Chorus or Rehearsals
6:00 Dinner
7:30 Orchestra, Evening Activities
10:00 Bedtime
The Mornings
consist of chamber music, lessons, and practicing. Everyone has scheduled hours to practice and everyone will be assigned to at least one chamber music group. Ensembles receive daily coachings.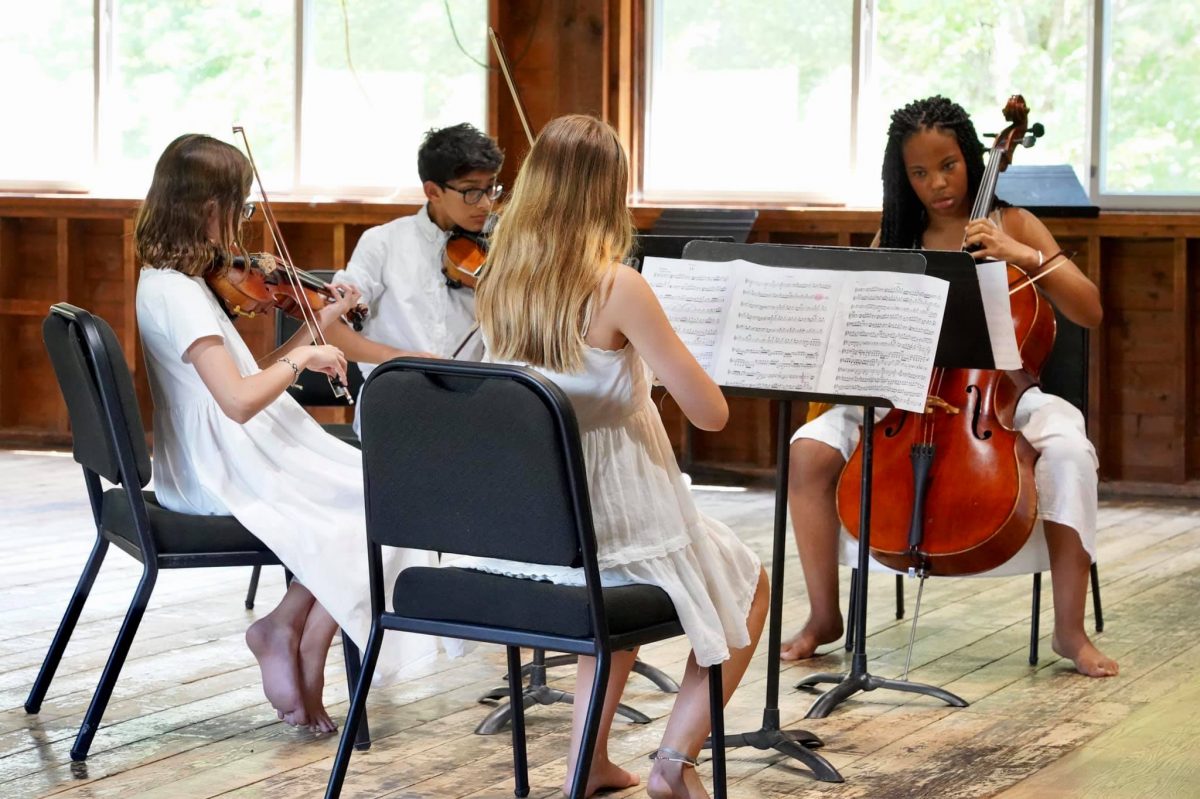 The Afternoons
are free for everyone to enjoy the beautiful Vermont surroundings. Many games, hikes and trips are planned by our ambitious activities staff. Before dinner, the chorus meets, rehearsals are planned, or free time is extended.
The Evenings
offer string orchestra, full orchestra, wind ensemble, and brass choir, with informal recitals, or an all-camp volleyball game or folk-dancing.