Leander Bien, Director
May 28, 2024 – June 2, 2024
Summers in Vermont remain a cherished memory in the minds of the many professional and non-professional musicians who have attended Kinhaven Music School. Kinhaven's emphasis on non-competitive, supportive music making has been at the very heart of its philosophy. This approach—the basis for our success with students of all ages—is the guiding spirit for our Adult Piano Workshop.
The Program
The workshop focuses on four-hand piano repertoire. Participants will be paired together and four-hand repertoire can be selected by each team or assigned by the faculty. Each four-hand duo will receive three 75 minute coachings. There will be time for practice, rehearsal, and sight-reading. The workshop will culminate in student concerts. In addition, there will be group and private Alexander Technique sessions, as well as four-handed sightreading sessions with the faculty. Pre-existing four-hand teams are especially welcome.
The workshop will begin with supper on Tuesday and will end with lunch on Sunday. It is open to intermediate to advanced level pianists, ages 18 or older. Acceptance will be based upon a recording or a live audition.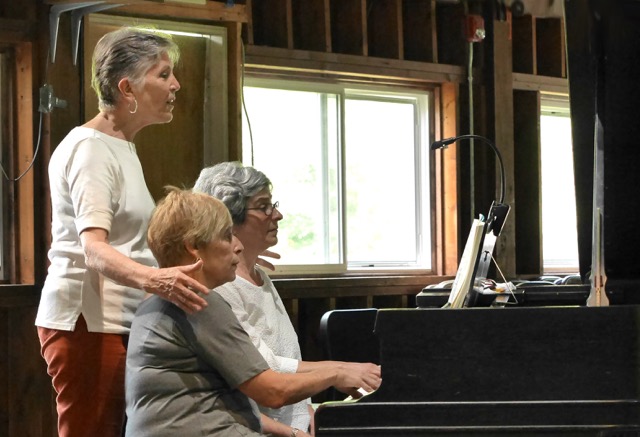 Faculty
Leander Bien

Leander Bien, Director, has degrees from the Oberlin Conservatory, Manhattan School of Music and the Sibelius Academy. Formally on faculty at the University of Massachusetts/Amherst, Lehigh University, Moravian College and the Levine School of Music (Washington, DC), he currently maintains a private teaching and coaching studio in Maryland. He has performed throughout the US, in Europe and Southeast Asia as soloist and collaborative artist. Also a composer, his work is published by Mentor Music and has been featured on National Public Radio and at the National Flute and Society of Composers conventions.
Andrew Harley

English pianist Andrew Harley studied at Oxford, the Royal Northern College of Music in Manchester, and the University of Southern California. Formerly Head of Collaborative Piano at the University of North Carolina/Greensboro, Andrew has taught in the Collaborative Piano Program at the Juilliard School, served as guest professor at USC, and is pianist at the Kamp-Lintfort Festival in Germany. Currently Associate Director of Collaborative Piano at the Aspen Music Festival, Andrew's performing career spans the US and Europe, and includes collaborative performances with many of today's leading artists, among them Lynn Harrell and Denyce Graves.
Victor Galindo

Victor Galindo, a faculty member at the Levine School of Music (Washington, DC), has performed in Europe, Russia and Latin America. He earned degrees in performance and piano pedagogy at the University of Michigan and the University of Montana, and his teaching was recognized with an award from the Fifth Biennial National Conference on Piano Pedagogy. Victor is the author of several music books for young pianists. He also has an interest in international socio-economic development, having worked in USAID programs in Latin America. He received a master's degree in Public Policy Management from Georgetown University.
Betty Ann Miller

Betty Ann Miller holds Bachelor, Master and Doctoral degrees in Piano Performance from the New England Conservatory, SUNY at Stony Brook, and Rutgers University, respectively. In demand as a recitalist, teacher and lecturer/clinician, her specialties include the works of women and modern composers. Dr. Miller has been guest artist at the Chautauqua Institute, and has studied and performed abroad in Italy and London. Her critically acclaimed CD of women composers on the Centaur label was sponsored by an award from the MTNA. Her principal teachers include Gilbert Kalish, Richard Goode, Alan Feinberg and Paul Hoffman. She maintains a private studio in Washington, DC.
Kristin Mozeiko

Kristin Mozeiko, a musician and AmSAT-certified Alexander Technique teacher based in Brooklyn, NY, leads optional group and one-on-one sessions in the technique for resolving movement problems that cause chronic pain and stress for performers and athletes. Kristin serves on the faculty at Queens College and holds bachelor's and master's degrees in education and French Horn performance. She is completing her doctoral studies in Music Education.
Housing and Food
Kinhaven has camp facilities consisting of communal cabins with bunk beds and shared bathrooms. There is electricity in all cabins. The Common Room in the Main House will be available day and night for reading, visiting, and relaxing in front of the fireplace.
Participants have the option of commuting from one of the many inns or motels in the area. Meals will be provided from Tuesday supper to Sunday lunch. The Kinhaven kitchen is famous for its delicious homemade fare—fresh, nutritious and non-institutional. Vegetarian meals will be available.
Costs
Participants staying on campus: $1,300
On-Campus guests: $400
Participants commuting to campus: $1,200
Commuter guests: $300
How to Apply
To submit an application, complete the form at the link below.
Audition Recording Requirements
A home recording or copy of a live performance is fine. The recording can be on a cassette (audio or VHS), CD or DVD. A solo work is preferable. However, a piece of chamber music with the piano clearly defined will be acceptable.
Please be sure to label the recording media and case with your name and the work performed.
Send the completed application and recording to:
Kinhaven Adult Piano Workshop
Leander Bien, Director
9 Lopa Court
North Potomac, MD 20878
Learn More
More information (FAQs, additional pictures & testimonials)
Contact us at or (301) 340-6583